Tips to Networking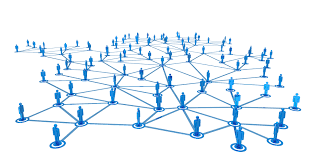 For every target and height one is looking forward to attain be it for business, career, jobs, etc., connecting with the right set of people have a long way to help making your dreams a reality.
Networking is the process of establishing a mutually beneficial relationship with other business people and potential clients and/or customers. The primary purpose of business networking is to tell others about your business and hopefully turn them into customers. This definition basically considers the business aspect of networking but this can be likened to other forms networking aimed at meeting people to better oneself.
Some people are of the notion that meeting the right people is not an easy task, they believe works quite smooth for those with rich  family background, having to spend a whole lot of money (e.g. visiting expensive places). Well, the kind of places you visit and the platforms to which you belong determines those you will meet, therefore, choose rightly.
I will be sharing with us some of the strategies to practice to attract those that will help us grow or those that we want to grow with, whichever is applicable.
Maximizing your network: we all have a network we belong. Can we identify that? Are we maximizing it? These are questions we should ask ourselves. Our immediate network are our families, friends and people we associate with often time personally and/or professionally. You need to know how to annex your immediate network. The best business or career mentors you can ever imagine and have are your families either those you are related by blood or those you have close ties with as they will be willingly to give you all it will take to be on top of your game without hiding the major success factors from you.
Selecting the right persons in your network: your network pool must comprise of those that can help you drive your dreams home. You may have the key decision makers such as companies' managers, senior leaders, head HR or those that can buy products from you or connect you with people who can patronise you. You could also have insiders that will be feeding you with relevant and legally permissible information on how to easily get what you want from a company and also you should have in your network those that will motivate you with their words which have a long way to boosting your confidence and self-esteem.
Watering your network: anything that we desire of to be productive must be nurtured just as the plants are nurtured to bear fruits. Upon keeping track and records of all those in your network, you should categorise them, mind you, they are all important but at different levels, therefore, categorising them would help you know when and how to continually keep up with them, when to use them and at what stage of your life you would need them.
Reshuffling your list: the level of need and importance of those that made up your network group should be readjusted at intervals. Change is the only constant phenomenon, therefore, as you progresses, so are your needs. New people will be added to your link while the need for others existing earlier might not be as strong as they were when you had them newly.
Please follow and like us:

//